I'd never seen Life on Mars before I received a request to make these guys. So I watched the first episode. Then the second one. Then suddenly it was 16 hours later and I'd watched the whole lot. Not really. (But NEARLY.)

You either love Gene Hunt, or you've never seen him in action. He's The Good, The Bad and The Ugly, and if I had a car I would totally drive like him.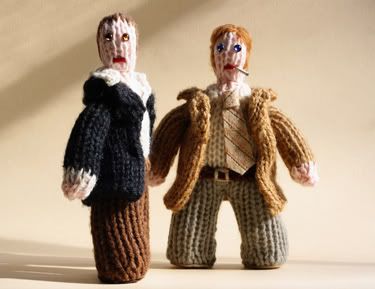 DCI Gene Hunt & DI Sam Tyler are off to Japan next week, which is sad (for me).

But the good news is that IT IS MY BIRTHDAY today, and also my Mum's. Happy birthday Mum! Thanks for teaching me to knit - without you, there would be no wooly Gene Hunt out there smashing up nonces with a bin lid, so this post is dedicated to you.