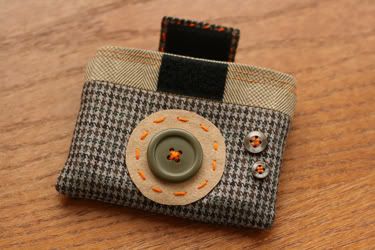 Hey everyone - sewing is the new knitting! Not really, of course, sewing is still just the old sewing. Had you there for a minute though, didn't I? It's annoying when people say things like that, I know. Sorry. I couldn't help myself - I have been at the wine.
I made this for Rob for his birthday. It's not an original idea, being rather inspired by a number of similar camera cases I've seen kicking around Etsy. I based it loosely on the
Diana
. It features real suede patches, and a proper lining and everything: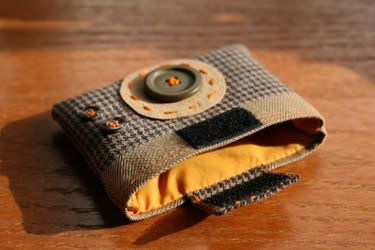 Goodness me, sewing is fast compared to knitting! I couldn't believe I'd finished it so soon. Sewing through suede is hard, and I totally ravaged my thumb making this. But it is also fun, even though the process is actually 80% cutting & pressing, 20% sewing. What a massive swizz.

Coming up next in sewing news: I attempt an extremely challenging bag, not at all recommended for beginners. All will be revealed in several months time. Until then, I've got a lot of knitting to do. Good day.