Halloween may be over for you, but here at Cake Towers, every day is Halloween. Sort of. Well, OK, it's not at all. Nor is my house really called 'Cake Towers'. But let's all pretend that it's true for a minute, because I've just finished knitting Michael Myers: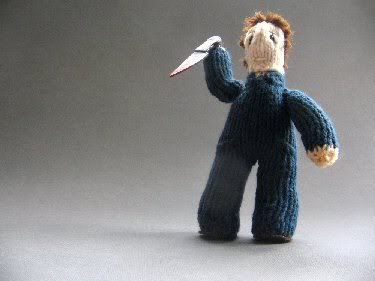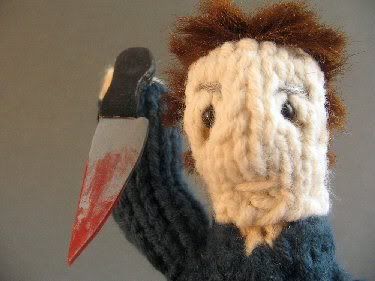 I haven't seen Rob Zombie's remake of Halloween yet, but if it's only half as good as the original, it will be worth a watch. Of course it could never trump John Carpenter's version because a) John Carpenter didn't write the score and b) Donald Pleasance isn't in it.
Michael Myers simply will not die. I like to imagine that 30 years from now, Hollywood will still be cranking out sequels - I won't be watching them (they'll be rubbish, of course) but I'll be glad that they're there. Because Halloween is the greatest slasher movie ever. The End.
I'm taking a break from the knitted minions - they are literally sucking the life out of me. I'm just finishing up the ones I've been working on, and then I'll be moving on. *
Insert theme from
The Littlest Hobo
here
*
Oh, and yeah - both Sadako and Michael Myers are up for sale in
my Etsy shop
. I need the money to buy a soldering iron. And on that bombshell, I shall bid you adieu.