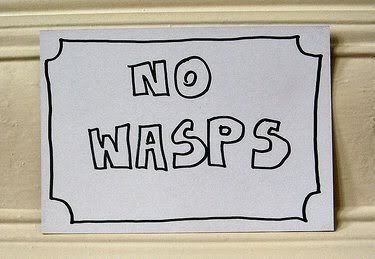 Wasps, it seems, are breaking all the rules. Seriously - when did wasps start coming out at night? They never taught me this at school. It's simply not supposed to happen.

It all started a couple of weeks ago. I am up late, as usual, when I'm alerted to the amplified buzzing of a wasp battering itself senseless inside the shade of the floor lamp. Normally in the case of such an invasion, I would simply give in and go to bed. But I am in the middle of a network game of Settlers of Catan and there's no way I'm flaking, because I really am that much of a geek when it comes to my stats.

So between turns, I find myself standing in my living room waving the lamp out of the window in the vain hope that the wasp will notice that it's actually night time and go back to its nest to get some sleep so it will be refreshed & sprightly in the morning, ready for a long hard day of stinging people.

But the wasp is not having any of it, and promptly flies straight back in WITH TWO OF ITS MATES. My lamp-waving, it seems, has merely served as a welcoming beacon for all the wasps in the neighbourhood, of which there suddenly seem to be rather a lot.
I look at the window and there are five more wasps crawling around on the outside. Peering into the darkness, I see a cloudy, seething mass of wasps swarming around the nearby streetlight. It's around this time that I start to panic. To prevent the situation from escalating I have no choice but to close the window, effectively trapping myself in the room with three angry, stingy wasps.
But my game of Settlers is only halfway through, and so I carry on in what is to become the least fun game of anything I have ever played in my life; for 20 minutes I am ducking and flapping and desperately hoping that someone, anyone, will just WIN THE GAME for crying out loud, so I can get out of the room. And all the time I can hear the incessant tap tap tap of more wasps smashing themselves against the window - the only way they could be more eager to get in would be if I were smothered in jam and having fifty picnics all at once.
Finally, mercifully, the game comes to an end and I retreat with great urgency to the bedroom where I wake up the good natured slacker and tell him that THERE ARE WASPS EVERYWHERE, A ZILLION WASPS ARE TRYING TO KILL ME. But the slacker is no slacker when it comes to pandering to my unreasonable requests to rid the house of insects at all hours of the day and night, and he duly crawls out of bed and hurls each and every one of their sorry asses back out of the window, while I shriek helpful encouragements from behind the door, such as "GET IT!!!!" and "DON'T LET IT COME BACK IN!!!!!"
Ever since then the wasps have been out in force every night - faintly tapping, tapping at my chamber door.
I was fully prepared for a zombie invasion, but this? As I sit imprisoned in my living room with all the windows tightly shut on the hottest night of the year so far... I can do without it, I tell you.