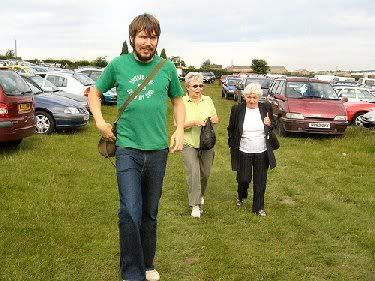 If you want to go car-booting properly you have to go up North. Or at the very least, out of Oxford. Because Oxford may be many things, but boot sale central it 'aint. The nearest car boot to me doesn't even START until 10.30am, the time by which all decent booters are packing up and going home to get the Sunday dinner on.

I love a good car boot. The only person I know who loves them more is my bro, who would willingly get up at 3am on a Sunday morning and throw himself out of a moving vehicle just for a sniff of a box of vintage vinyl. I'm with him. There's nothing better than having a good old nose at what people are getting rid of, and if you've got your eye in, there's some super bargains to be had. Take for example the fruits of my most recent booting expedition - the Super Speak & Spell:
Now I know I said I wasn't going to buy any more of this stuff, but in all fairness I never actually said that out loud, and anyway I didn't actually mean it. But you have to understand that, from the moment we met, the Super Speak & Spell and I had a connection. It SPOKE to me. It also made some crazy bleeping noises. I knew I had to have it. AND IT WAS ONLY 50p! Stop looking at me like that.
More obsessive barminess abound, as I planned my entire coach trip home just so I could go to the Sing Fat Chinese supermarket in Birmingham to pick up more Ginbis Party Animal biscuits. The trip proved to be a triumphant success, although I had to check myself before I loaded my basket with 6 boxes of them after I discovered that the entire stock had been relegated to bargain corner and was selling for 45p a box. After much internal wrangling, I reluctantly limited myself to 3 boxes, because I needed to save some room in my bag for these awesome Doraemon crackers:

Doraemon rules. He's a time-travelling robot cat from the future. If you're wondering why he doesn't have any ears, it's because they were gnawed off by a robotic mouse in the 22nd century. It doesn't seem to bother him none. Look how happy he is.

In vegetable (green) and cheese (yellow) flavours, they are almost too good to eat. But I shall eat them anyway in case they give me the ability to travel through time, in which case I would hot-foot it back to about a year ago, when I passed up the chance to buy a Speak & Maths in a charity shop, just because I was down to my last fiver & needed it to buy some food. What was I thinking?! I can barely live with the regret. If you happen to have one that you don't want, please send it to me so that I can get on with my life.