Computer programmer & all-round gaming wizard Brian Green has come up with the goods - he reached number one on The Biz, and has sent me the screenshots to prove it. Here he is at no.1 with 'Restless' by Psychokids: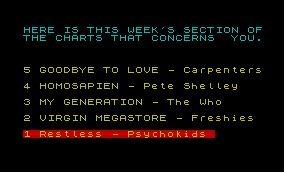 Even more excitingly, here is the winning screen which features a secret code to send off to Virgin Games in order to claim your prize. I have blurred out the code a little bit, so none of you can steal the glory which rightly belongs to Brian:
With his achievement coming 23 years after the game was first published, Brian was not convinced that the competition would still be open. I, on the other hand, simply cannot let this lie.

Having been unable to unearth any previous winner during my research into the game, I believe there is every chance that the prize was never claimed. And so, with Brian's permission, I shall be writing to Virgin Games on his behalf to see if we can't claim his prize. Watch this space.