It is with a heavy heart that I must announce that my beloved Raleigh Grifter and I have parted company, after it was stolen from my house on Saturday. You may or may not know that I was rather attached to that bike - some might say more than a normal amount. But screw them! Because if loving that bike was wrong, then I don't want to be right, and I feel that under the circumstances it is only appropriate that I should send my trusty two-wheeled compadre off into the world with a befitting eulogy.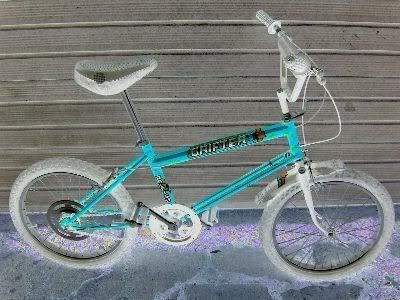 Dear Bike

For 2 years and 5 months you have been my faithful companion, up and down roads and hills, across fields, over and under bridges, through parks and red lights and puddles, and on pavements. There was never a day when I wasn't delighted to see you, with your scratched up old red frame and your bitchin' yellow BMX tyres. You had no rear mudguard, but even when you sprayed muddy water up my back all those times, I could never stay mad at you for long.

Do you remember that time when a policeman on a mountain bike pulled up alongside us at a junction & told me that my bike was illegally cool? Oh how we laughed...particularly because he had actually said no such thing...more along the lines of how it was a nice bike and where did I get it from etc. but we both knew that's what he meant to say.

Sometimes I would park you outside shopping centres and then forget where I left you. My heart would skip a beat as I frantically scanned the rows of bike racks & lamp posts, panicking at the thought that you wouldn't be there. But you were always there, you big kidder, and we'd share a hearty joke about what a durbrain I am, before saddling up and riding home for a cup of tea (for me) and a vigorous rub-down with an old sock (for you).

But now you are really gone, and I can only hope that wherever you end up, someone will love you as much as I did. You are as ancient and battered as Old B.O.B - your brakes don't work, you have bent spokes and you sometimes make a screeching noise at high speeds. I hope you won't be left out in the rain.

Bike, in my heart there is a glimmer of hope that someday we shall be re-united - misty visions in my mind of us running towards each other in slow motion, me gathering your bony steel frame into my arms and spinning you around and around, planting happy kisses on your rubbery yellow tyres. I will never stop looking for you, bike.

And so with great sadness, I must say goodbye, old-timer. It wasn't supposed to end like this, but damn, we had some good times didn't we? Yeah we did, and I wouldn't have missed it for the world.

Your friend,

Han