Foolish cycle thieves! Strike me down, and I shall become more powerful than you can possibly imagine! That's right everyone, danger has a NEW name and that name is RALEIGH COMMANDO.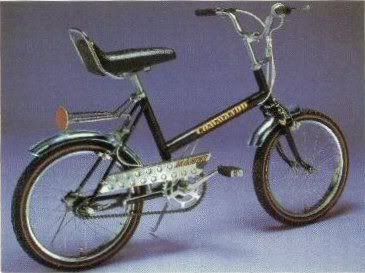 The Raleigh Commando was launched in 1973, along with the 'Commando Star', a single speed camouflaged version with a Grifter seat. The Commando features 3 speed twist-grip gear change, sissy bar, chopper seat, and chrome mud/chain guards. Originally available only in jet black, I believe it was later produced in orange & pink, although they may have had smaller frames.

Here is a picture of the actual bike that arrived in the post today, finally giving my postman a justifiable reason to ring the doorbell: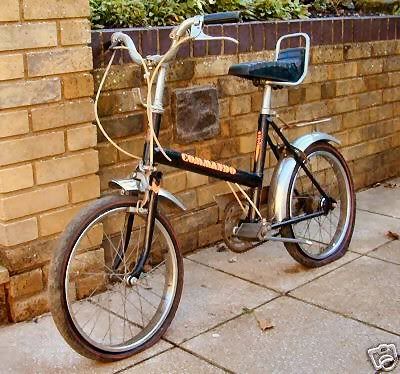 It's not quite ready to hit the streets just yet - being rather in need of some new tyres, a good rub down to remove the surface rusting, and an all-round oily tune up. Overall though, it's in good condition considering its age - the only thing missing is the rear reflector.

Unbelievably, this bike cost a paltry £20.51. Like many of these classic Raleigh models like the Wildcat, Vektar, Bomber etc. it doesn't appear to be particularly collectable. In fact, I saw a Grifter in better condition than mine sell for £26 the other day, so there's a fairly good chance I'll be getting another one in the future - that bike holds a special place in my heart.

So there we go. Once again, my bike is better than yours. In your face, everybody.