Wuzzup y'all! Many hours have I laboured in the research kitchen, perfecting the formula for what is surely the culinary equivalent of the holy grail - biscuits you can justifiably eat for breakfast.

Large quantities of oats were harmed in the making of this recipe, but, as Bill McNeal would say, the final cut has got the mad flavour that takes any situation to the next level, so tighten up your flow with this recipe for the biscuit that'll keep you ugly all night long. DAMN!!!

FREESTYLE BREAKFAST BISCUITS (aka WAKE 'N BAKE BARS)

1 cup porridge oats
1/2 cup plain wholemeal flour
1/2 cup raisins
1 tablespoon soft brown sugar
3 tablespoons tahini paste OR smooth peanut butter
2 tablespoons runny honey
2 teaspoons ginger
1/2 teaspoon baking powder
1/2 teaspoon cinnamon

ANY or ALL of the following (You're freestyling! Rock the microphone!):

1/4 cup sesame seeds
1/4 cup pumpkin seeds
1/4 cup sunflower seeds
1/4 cup rye flakes
1/4 cup chopped nuts (almonds or cashews are best, IMO)
1/4 cup chopped dried fruit (dates, crystallised ginger, apricots, cherries, blah blah blah)

Stick the oven on at about 180C, Gas Mark 4.

Mix all the dry ingredients up in a big bowl. Measure out the wet ingredients into the bowl, and give it a stir. Sprinkle over a couple of tablespoons of hot water, and get brutal with a spoon - give it a good old mash-up.

It's gonna look like spaz at this stage, but don't be disheartened. Just get in there with your hands and work it. You're aiming for something that will hold together without being too sticky. Do whatever it takes! You can add a bit more flour if you feel like it. Use The Force, if needs be - it's the energy field that binds the galaxy together, after all.

Now you'll need a baking tray - I always use non-stick baking parchment to line baking trays, because it totally rules, but greasing it would probably work OK. Probably.
No messing about, dump the whole pile onto the tray, and flatten it out with your hands or a rolling pin. If you wanted to, you could roll it out on a floured surface and cut it into shapes. Because I am pretty lazy, I like to just cut it up into squares right there on the sheet.

Stick the tray in the oven for about 15 minutes, or longer, or shorter, whatever. Serve with chocolate milk or orange juice, and you're done.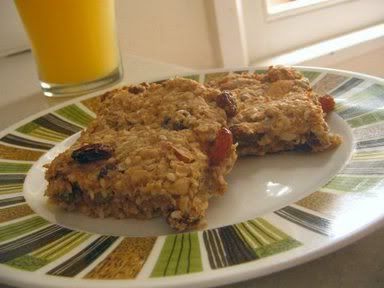 I eat these all the time, and they are GOOOOD, kind of like flapjack, only without all the butter & sugar. They only take 10 minutes to make, and they're super cheap. Miraculously, they seem to last for weeks, even if you leave them lying around on the side, like I do. You could probably use one to wedge a door open, or as a rustic paperweight. Or perhaps carry one around in your top pocket, to throw into the face of a potential assailant. They're pretty versatile like that.