I have a large collection of musical instruments in my house, including an almost embarrassing number of keyboards. These include a Casio MT-100, salvaged from a skip outside my house, a Cavendish model 1500 easy play organ from the junk shop down the road, my trusty Casio VL-1 (VL-Tone) 'synthesiser' that I got for Christmas when I was 7, the bulky Yamaha Portatone PSR-4500 that got me through my A-Level music, and a toy grand piano which I bought in a moment of madness off eBay.
But there's more! I have 3 descant recorders, 1 tenor recorder, a miniature accordion, a collection of crazy 'folk' instruments made out of gourds & bamboo, pan-pipes, ocarinas, a jews harp, glockenspiel, bongos, a guitar, a turkish 'saz' and, of course, the Rosedale Electric Chord Organ in case I feel like busting out a few sea shanties, which is more often than I'd care to admit. Oh, and a collection of those animal noise canisters that you tip upside down - I have them in cat, cow, sheep & bird. That's percussion, right?
I clearly have a problem, and there's no cure in sight. I am constantly on the look out for more. I NEED a thumb piano, melodica, stylophone, fender rhodes, sopranino recorder, set of hand bells, vibraphone, theremin, tubular bells, a bikelophone, a tibetan singing bowl and a massive gong (for dinner time). I'm not sure how much longer I can live without these essentials.
And now, via Music Thing, my obsession turns to these ToyQuest instruments, produced in conjunction with Blue Man Group: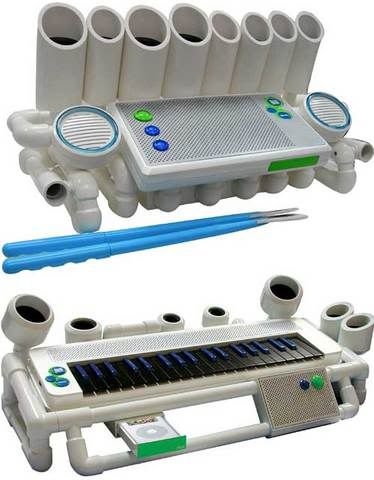 What is it about toy instruments that makes them so appealing? These look AWESOME! Them there tubes are motion sensor devices (like a theremin?), and that little green drawer slides out to reveal a freakin' iPod dock, for jamming along to Emerson Lake & Palmer. Swoon!