My absolute favourite film of all time is Romero's 1978 classic Dawn of the Dead. I must have seen it at least 50 times, and I own 4 copies, as well as the soundtrack, the script, the novel, the board game, the comics and the t-shirt (really).
I bore people with endless facts while they are trying to watch it. I point out mistakes and continuity errors and cuts and say things like "Oooh, this is a good bit" and "Look! Look! There's George Romero" and "Look! There's George Romero's wife!" and I tell them about the time I shook Ken Foree's giant hand at a nerd convention.
Hell, I should probably marry this movie. I love everything about it - the characters, the library music/Italian prog rock soundtrack, the setting, the story and (of course!) the zombies. I love it because underneath all that cheesy comic-book action, gore and slapstick humour lies an insightful and thought provoking subtext of class war, conformity and consumerism.
Zombies, eh? They're us, and we're them. When the worst comes to the worst what we should really fear is ourselves, and each other. I think that's what Jerry Springer was really trying to say.
All of which serves as a very lengthy introduction to my latest completed project. A knitted homage to Dawn of the Dead.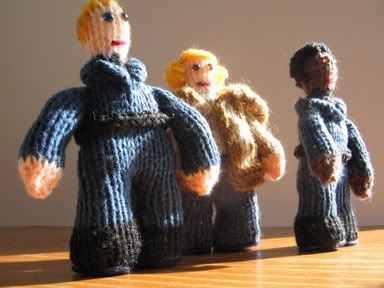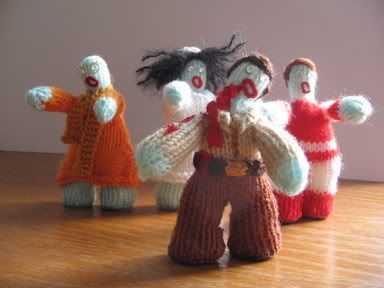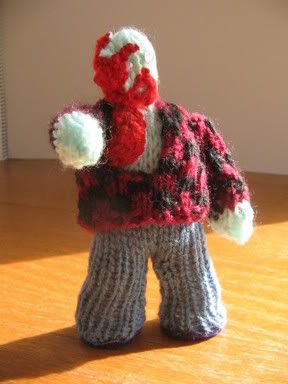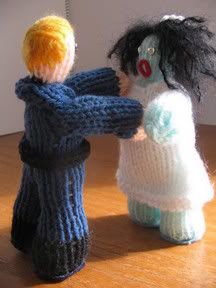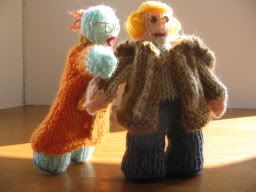 Slideshow of all the pics here
Whew! And now, if you'll excuse me, I'm off to resume my much-neglected life.