Still no knitting to show, although I am cooking up something rather exciting - I can't show it yet because it's for a swap on craftster and I don't want to spoil the surprise. It's already a week overdue, and there's a fair bit left to do. Yet here I am procrastinating away...lalalala....
Loads of really cool stuff has happened to me lately - the force must be with me or something. First, I got my casio vl-tone back. Then Rob found me a toy train that makes 7 different animal sounds (the duck is broken, but hey) and 3 train noises including some particularly good honking and clacking. Then on Saturday, Al very generously gave me a super-old wooden horse marionette puppet that I fully intend to showcase just as soon as I fix him up a bit. As if that wasn't excitement enough, on Monday I went to Alton Towers, which, as we all know, is pretty much the most fun you can possibly have. And there's even more - check it out:

That, my friends, is the Rosedale Electric Chord Organ. It set me back £15 from a charity shop in Headington - a fairly expensive charity purchase, but worth it for the following reasons:

It comes in a shade of avocado green plastic previously unseen outside of a 70's bathroom.
DAVID freakin BOWIE played one of these bad boys on

Space Oddity

(although I don't know which tracks - I'll have to give it a careful listen).
It has no volume control. I like that.
You can only choose from 12 chords. Remember - less is more, people.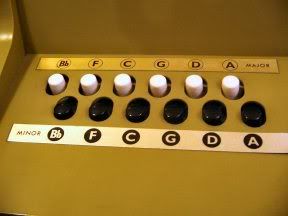 The sound is powered by a big fan that powers up noisily when you switch it on. It sounds like a mixture of accordion, melodica and harmonica - which comes as no surprise since it employs practically the same mechanism.
The very first keyboard I ever owned was one of these - a two-tone brown Bontempi, back in 1980 or something. I mostly used it to repeatedly pound out the mysterious "In A Wigwam" song from John W. Schaum's Piano Course The Green Book, which also included such classics as "Bone Sweet Bone", "Mr Frog is Full of Hope", "Power Shovel" and "Donkey Party". I'm not even making it up.