My Month Of Softies sock monkey is overdue. I seem to be incapable of furnishing him with a suitable hat. After two failed attempts, I refuse to admit defeat and he will remain under wraps until the hat is finished. I am behind schedule, and the projects are piling up.
This chapeau emergency has not prevented me from spending hours goggling at miniorgan.com with my mouth hanging open. Here is a site so exciting that my tea went cold and had to be reheated in the microwave. TWICE. Why am I wasting money on food and rent, and wasting precious time sleeping and working, when I should be travelling around the world in search of the Mego Muson Synthesizer?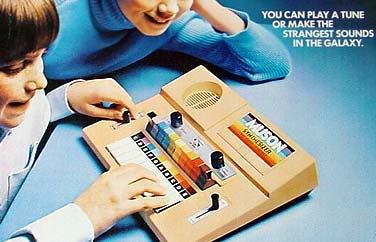 Strangest sounds in the galaxy, please! And while I'm at it I'll be cuttin' my own wax on the Tomy VoiceCorder. More and more and more things that have been added to my increasingly long list of 'things that I must have, or I might die'. Dammit, my tea has gone cold.