I am digging this crocheted owl by GourmetAmigurumi on Etsy almost as much as Etsy itself. This home grown eBay will surely revolutionise the crafting world. I am watching its progress with great anticipation.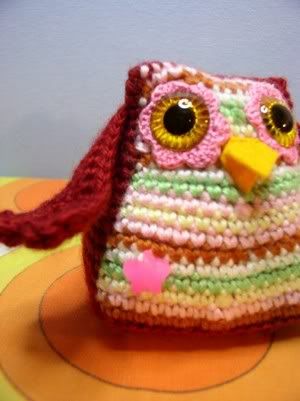 Unfortunately I can't really justify spending $32 on this little fella at the moment, much as I would love him. Instead I hereby vow to spend tomorrow learning to crochet, so I can make one of my own. I just can't put it off any longer.
I don't know whether it's just me, but I've been seeing owls all over the place just lately. You can't get out of a charity shop without clocking at least two. It would seem that we are in the midst of an owl epidemic. Maybe Russ was right to run over that owl in his car. He obviously knew something we didn't.
An owl once swooped alarmingly at my brother Matt's head while he was standing outside our parents' house smoking a fag. He said he'd been making mouse noises but I find it hard to believe that he tricked an owl into thinking he was a mouse, because everyone knows that owls have supremely good eyesight, and my brother is very tall. A more likely explanation is that the owl, in its wisdom, was teaching him a stern lesson about taking the piss.