You may or may not know this, but I have a major jones for vintage Reader's Digest books. In my collection so far I have The Complete Guide to Sewing, The Complete Guide to Needlework, The Complete Guide to Home Maintenance and The Complete Do-It-Yourself Manual. They are all from the 70's and, as well as tons of step-by-step projects, they are crammed full of retro interiors and fashion. I love them because they reflect an era where people were thrifty, resourceful and imaginative - a time when it seems that people would spend their free time creating instead of consuming, fixing up old stuff instead of throwing it away.
The latest addition to my RD reference library is The Family Book Of Things to Make and Do.
This is just about the raddest book I have ever seen. It has sections on Knitting, Modelling, Needlework, Photography, Printing, Weaving, Tie-Dye and Woodwork. It has SO MANY cool things to make, including a Zoetrope, magic tricks, masks, loads of kites, model boats, table football, doll's houses, marionettes (pirates and robots!), and puppet theatres - including shadow puppets. There are sections on baking, sweet making and barbecues. There are knitted bags and woven belts, fancy dress, go-karts, tents and teepees - and that's not even half of it. Best of all, there is a whole section on making musical instruments including this thumb piano: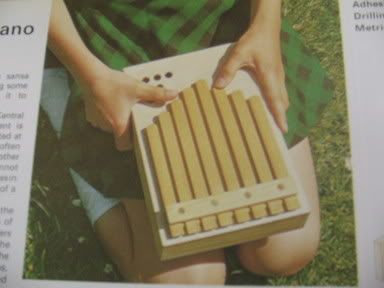 and these 'tubular bells'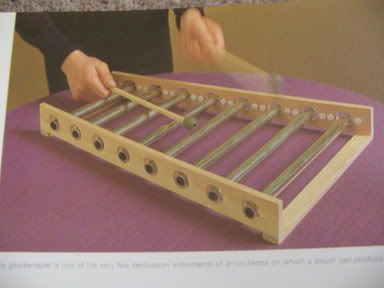 as well as some little clay bird ocarinas, drums and even a zither.
The soft toy section has a group of circus toys, including this corduroy elephant:
and I really love these printed cats:


Finally, there is a huge jewellery making section, with tons of stuff including these awesome acrylic rings which I am including especially for Emma: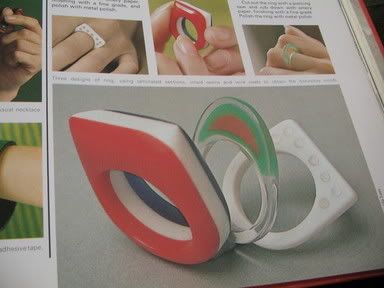 Now I may be wrong, but nobody seems to write books like this any more. It seems that these days, crafting activity books are all aimed at children. That's what makes this book so great - it's really not for kids at all. Not that I don't LIKE kids or anything, but why should they have all the fun?
At the moment, the commercial UK craft market is woefully lame - a fact that is reflected in our appalling selection of craft magazines. It's all pre-designed cross stitch and card making. Gah. Where are my bitchin craft magazines? More to the point, where is my time machine?