This is Tina. She is my latest charity shop find - I paid £5.50 for her, and then had to cycle precariously home (sans rear brake, I might add - one of my brake blocks fell off). It was a journey fraught with danger, but it was totally worth it. Just look at her! She's a beauty.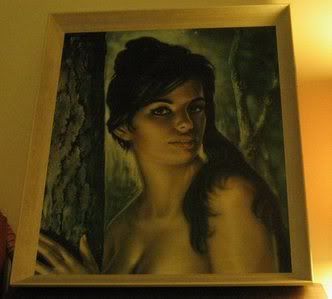 Tina was painted by the artist J.H. Lynch and dates from 1961. This print was the most distributed of all his work and crops up on eBay quite often. There's a shop down the road from my house called the retrozone which sells vintage homewares and furniture. They are currently selling this exact same picture for £45. Score!
In other news, The Star rounders team completely annihilated Cult Clothing in an all out battle for supremacy on the Angel & Greyhound meadow earlier today. After today's performance I truly believe we are unbeatable. There was some sterling teamwork on show, not to mention genuinely awesome sporting endeavor. Go Team!