I was a bit disappointed that I didn't get a different coloured star, but hey.
I love eBay. No, I mean I really LOVE it. If I meet people who say they've never been on it I look at them funny. Where do they get their stuff? Unbelievable.
I have had some awesome stuff off eBay, and I have seen all kinds of cool things on there, but NOTHING could have prepared me for last night's discovery.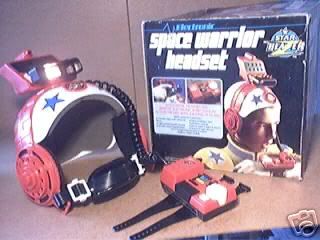 1982 "Star Blazer" Electronic Space Warrior Head Set

This helmet has a mounted unit housing speaker and light (as seen in the "on" mode in photo.) with sliding colour filters.

It is controlled by an electronic wrist station, which has a compass, light mode selector, volume adjuster and microphone.

This highly imaginative space toy creates various sonic sounds.

When I stumbled across this, it was on £1.99 with no bids and an hour to go and I was freaking out because LOOK AT IT! It has a light with sliding colour filters! It creates various sonic sounds! It even has a compass! It is by far the best thing I have ever seen.
So I place a bid of £13.55 and we skip off up the rainy high street to see cassette for cassette, caretaker and this aint vegas playing at the Wheatsheaf, where I spend a delightful evening imagining how much more awesome everything would be if I had a Star Blazer Electronic Space Warrior Head Set. Several hours later we return to the pub and I discover to my dismay that the dream is over. The helmet has slipped through my fingers. Curse you jas.bos! Why? Why? Just look at that kid on the box. That could have been ME! Bollocks! Fuck! Fucking Bollocks!