I have been doing A LOT of knitting. Knitting is like being a human ZX81 printer except it's quieter, fluffier and doesn't produce an eye-watering stench (providing you do it properly). I am an unstoppable knitting robot.
Kudos to Oxford Cycle Workshop for fixing my bike today, and giving it a good ol' tune up for the princely sum of £7. They even fixed my dodgy gears! In your face Sturmey Archer!
Despite this new lease of life, I have been entertaining the notion of cheating on my bike (shhhhh!). Feast your eyes on the MoFo below.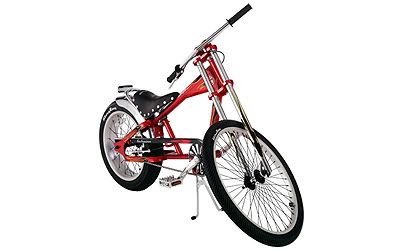 That, my friends, is the Schwinn Stingray. I have been having regular wild imaginings of riding it - fantasies of me and my NEW bike speeding shinily through the streets. But what about my old bike? Am I to relegate my trusty steed to the depths of the bike shed, while I blatantly parade this Johnny-come-lately gleaming whore-bike in its face? I don't think so. Yet late at night I stare yearningly at pictures of this vehicular temptress. Hey, there's nothing wrong with looking, right?